Aptamil Growing Up Milk 2+
For infants from 2 years
Meets latest recommendations from nutrition experts
Supports immune system² & brain development³
ALA (Omega-3), Calcium & Iron
Age-appropriate protein content 
Vegetable oils without palm oil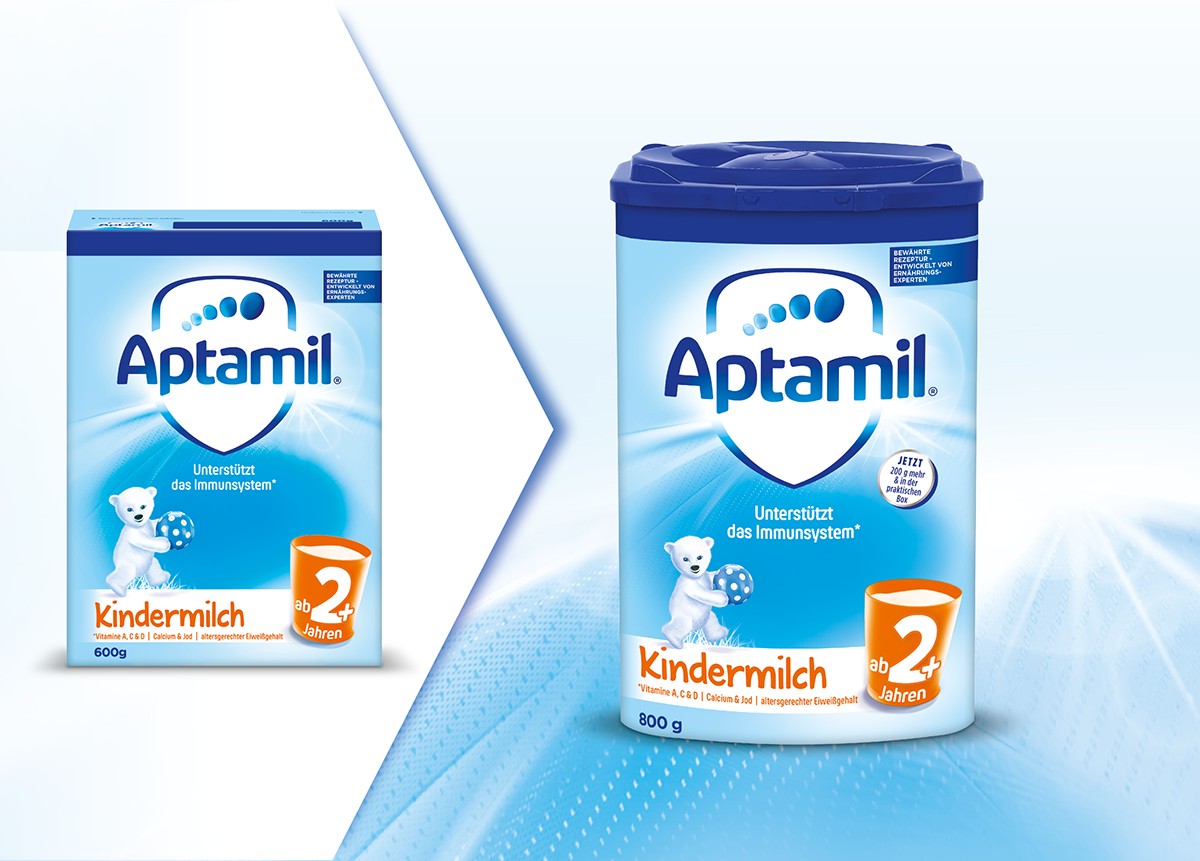 Milk drink for special nutrition for infants from 2 years of age
From day to day, toddlers become more and more active and constantly make new experiences and learn new things. With this rapid physical, social and mental growth, an age-appropriate supply of nutrients is essential. That's why common milk moments remain important!
Aptamil Children's Milk complies with the latest recommendations from nutrition experts and is tailored to the needs of infants from 2 years of age.
Little explorers can taste the Aptamil children's milk cold and warm. Whether as a start to the day, on the road or in the evening – Aptamil Children's Milk supports your toddler's immune system with vitamins A, C and D.
It contains vegetable oils without palm oil.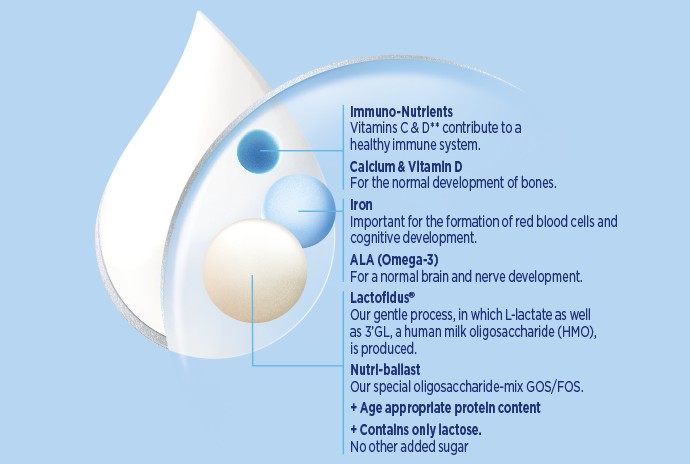 *All prices incl. VAT and plus shipping costs.
² Vitamins A, C &D contribute to a healthy immune system.
³ ALA (omega-3) contributes to normal brain and nerve cell development.
Based on 40 years of research, Aptamil Children's Milk as part of a healthy diet helps ensure an age-appropriate supply of important nutrients.
For a healthy immune system
Your child's immune system continues to develop during the first 3 years, forming the basis for a healthy future. With Aptamil Children's Milk you support your child until kindergarten age.
Aptamil children's milk is suitable for toddlers from 2 years as a milk drink for breakfast, dinner or in between.
The immuno-nutrients A, C andD contribute to a healthy immunesystem.
TIPS:
By drinking the children's milk from a cup or glass, your child can additionally promote his motor skills.
Aptamil children's milk can be drunk hot or cold.
Aptamil children's milk as a contribution to a balanced diet.
Please pay attention to a varied and balanced diet as well as a healthy lifestyle.
Our unique lactofidus® process
In our gentle lactofidus® process, L-lactate as well as 3'GL, a human milk oligosaccharide (HMO), is produced. In our unique process, natural lactic acid bacteria areused, which already"pre-digest" part of the milk in a positive way during the production process.
Ingredients
Skimmed milk (30%), vegetable oils (sunflower, canola, coconut) (26%), lactose (from milk), galactooligosaccharides (from milk), whey product (from milk), calcium orthophosphate, potassium citrate, fructooligosaccharides, fish oil, calcium carbonate, calcium chloride, vitamin C, emulsifier (soy lecithin), choline chloride, sodium citrate, ferrous II sulfate, potassium chloride, inositol, magnesium chloride, antioxidant (ascorbyl palmitate), vitamin E, pantothenic acid, niacin, vitamin B2, vitamin A, vitamin D, vitamin B6, vitamin B1, potassium iodide, folic acid, vitamin K, biotin, vitamin B12.
Nutritional Values
Per 100 ml ready-to-drink food¹ / per 100 g powder (% of reference amount per 100 ml)
Energy

kJ /kcal

226/54

Fat

3.0 g

- Thereof saturated fatty acids

0.80 g

- Thereof polyunsaturated fatty acids

0.79 g

Carbohydrates

5.2 g

- thereof sugars

5.1 g

Fibre

0.5 g

Protein

1.3 g

Salt

0.04 g

Vitamins

Vitamin A (18%)

73 µg

Vitamin D (35%)

2.4 µg

Vitamin E (32%)

1.6 mg

Vitamin K (58%)

6.7 µg

Vitamin C (29%)

13 mg

Thiamine (Vitamin B1)

0.04 mg

Riboflavin (Vitamin B2) (31%)

0.22 mg

Niacin

0.27 mg

Vitamin B6

0.06 mg

Folic acid

7.5 µg

Vitamin B12 (36%)

0.29 µg

Biotin (17%)

1.7 µg

Pantothenic acid

0.61 mg

Minerals

Potassium

101 mg

Chloride

56 mg

Calcium (24%)

133 mg

Phosphorus

66 mg

Magnesium

4.4 mg

Iron

1.4 mg

Iodine

17 mg

Further nutritional values

α-linolenic acid (ALA)

0.08 mg

Lactose

4.8 mg

GOS²

0.46 mg

(GOS²) Non-caloric carbohydrates

0.24 µg

FOS²

0.08 µg

3'GL³ (HMO)

0.01 mg

L-lactate

0.02 mg
¹Standard mixture: 11.2 g powder + 90 ml of water = 100 ml ready-to-drink nutrition.
²GOS = galactooligosaccharides, FOS = fructooligosaccharides.
³3'GL = 3'-galactosyllactose
⁴Natural content
The analysis values are subject to the usual fluctuations when using natural products.
Use, Preparation & Dosage
When preparing and storing Aptamil® Growing Up Milk 2+, pay close attention to the instructions for use.
Always prepare fresh and feed to your child immediately. Do not reuse leftover prepared food. Aptamil® Growing Up Milk 2+ can be prepared warm or cold. Do not heat Aptamil® Children's Milk 2+ in the microwave (danger of overheating).
If necessary, boil fresh drinking water and allow to cool to approx. 40°C
Add the required amount of water to a cup or glass. Add the required amount of powder using the included measuring spoon (full spoon, levelled).
Stir and check that it is at drinking temperature (about 37°C)
Nutrition experts recommend 300 ml of milk and milk products daily for small children, divided into 3 portions.
As part of a balanced diet, this is equivalent to a portion of Aptamil® Growing Up Milk 2+ for breakfast, lunch and/or dinner. Our children's milk tastes good warm or cold. Please only use the enclosed measuring spoon. A full levelled spoon is 5.5 g of Aptamil® Growing Up Milk 2+.
One package corresponds to approx. 54 portions.
| Read-to-drink Growing up milk (ml) | The following is needed per 100 ml serving | Measuring spoons |
| --- | --- | --- |
| 100 | 90 ml water | 2 |
Given you child Aptamil® Children's Milk everyday - to optimally support their nutrition.
Important Notice
Aptamil® Growing Up Milk 2+ is designed for children to drink from a mug or cup beginning at 2 years old.
Please pay attention to thorough dental care, especially at bedtime. Please also pay attention to a varied and balanced diet as well as a healthy lifestyle.
Our Quality promises
Our Aptamil products are based on the latest findings from over 40 years of research and meet the highest quality standards.
In addition to our consistently high product quality, we also strive to continuously develop our range of services around our products. That's why each package of Aptamil Pronutra contains two unique QR codes that allow you to learn more about our quality promise and the individual product you bought.
By holding the camera of your smartphone on one of the two QR codes and following the displayed URL, you will get direct digital access to the product details of the product you purchased, such as its production and expiration date.
This might also interest you
Always there for you!
Contact our Aptacare expert team. Our experts are nutritionists, midwives and pediatric nurses, and all of them are mothers too. Specially trained breast-feeding experts will be happy to advise you on all your questions regarding breast-feeding.