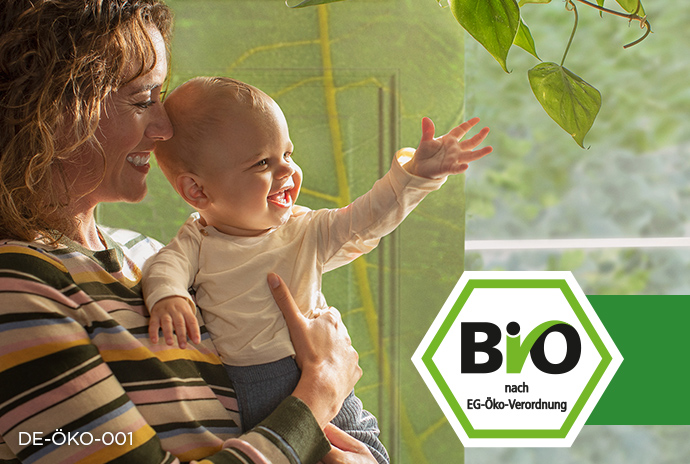 Aptamil Products
Aptamil Organic Baby Formula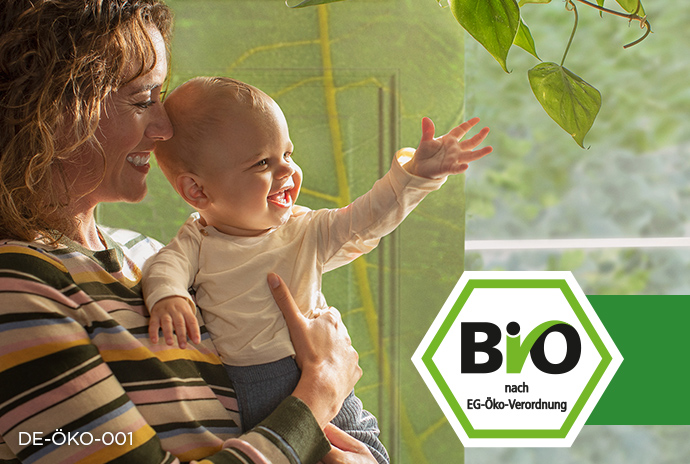 New: Aptamil Organic Follow-On Milk – organic milk now available in Aptamil quality
In our new Aptamil Organic Follow-On Milk, we combine science and nature in a special way. As a result, our special recipe is a combination of both scientific knowledge and organic ingredients. With Aptamil Organic Follow-On Milk, you no longer have to decide between giving your baby either organic ingredients or a science-based Aptamil formula after breastfeeding.
All Aptamil Organic products at a glance
Frequently asked questions about Aptamil Organic products
What does organic certification mean?
Aptamil Organic is certified with the German organic seal in accordance with the applicable organic guidelines
(Organic certification according to the EU Organic Regulation: DE-ÖKO-001).
Only products and foodstuffs that have been produced and controlled in line with the EU legal regulations for organic farming can be labelled with this organic seal. These EU-wide legal regulations guarantee uniform standards for organic farming. The organic seal thus supports both organic production and animal welfare. [Extract from bmel.de]
In order to manufacture processed organic food, natural cycles and processes must be observed (feed – animal husbandry – fertiliser – crop rotation). Depending on the season, livestock also must be allowed to graze in the pastures on a daily basis in accordance with the Organic Regulation
How are the animals fed?
The cows are fed in line with organic standards. They are provided with fresh grass and hay. Other feed, such as groats in winter, is produced by organic cultivation (in accordance with the law). Exceptions are only allowed if this is expressly permitted by the competent authority. When a product is manufactured organically, this guarantees that no genetically modified plants or microorganisms have been used in the production chain.
Are the farms mass-scale operations or smaller businesses?
Organic animal husbandry enables the cows to live in line with their behavioural needs. They always have enough space to move freely and to be able to develop natural social behaviour. The number of animals must always fall in line with the usable agricultural area of the farm, and all farms must ensure that environmental pollution resulting from keeping the animals can be prevented.
How exactly are the animals kept?
Animal welfare is a priority for us, as healthy cows are the essential prerequisite for ensuring the flawless quality of our raw ingredients, "organic milk", and thus also of our end product, the milk powder in Aptamil Organic products. As a result, each and every Aptamil product meets all legal requirements in terms of both their manufacturing process and animal welfare.
Our animal welfare guidelines are based on the internationally recognised principle of the "Five Freedoms", which was developed by the Farm Animal Welfare Council (FAWC).
Freedom from hunger and thirst: thanks to ready access to fresh water and a diet to maintain full health and vigour.
Freedom from discomfort: by providing an appropriate environment, including shelter and a comfortable resting area.
Freedom from pain, injury or disease: by prevention or rapid diagnosis and treatment. The focus is on the health and well-being of the animals.
Freedom to express normal behaviour: by providing sufficient space, proper facilities and company of the animal's own kind.
Freedom from fear and stress: by ensuring conditions and treatment which avoid mental suffering.
How often are quality inspections carried out on the farms?
Our farmers are regularly checked as part of audits that review compliance with our specifications. We are continuously working with them to find opportunities to improve while also promoting progress in terms of animal welfare and rewarding best practices.
Our top priority is ensuring quality and food safety throughout the entire manufacturing process. Therefore, all of our Aptamil products undergo regular quality tests, analyses and controls in order to protect the health of babies from day 1.
More than 100 parameters can be tested for each production batch, with more than 200 parameters being checked regularly in line with our monitoring programme. These parameters include microorganisms, contaminants, nutrients, allergens, physical properties of the powder, sensory properties as well as packaging properties and substances. We also carry out more than 20 preventive processes according to the production guidelines, including cleaning, monitoring composition, weighing, sieving, X-ray and metal detection, scoop checks, seal checks and code reading.
High-quality organic ingredients
Find out more about our organic raw materials and the production of Aptamil Organic Follow-On Milk
Certified according to the applicable organic guidelines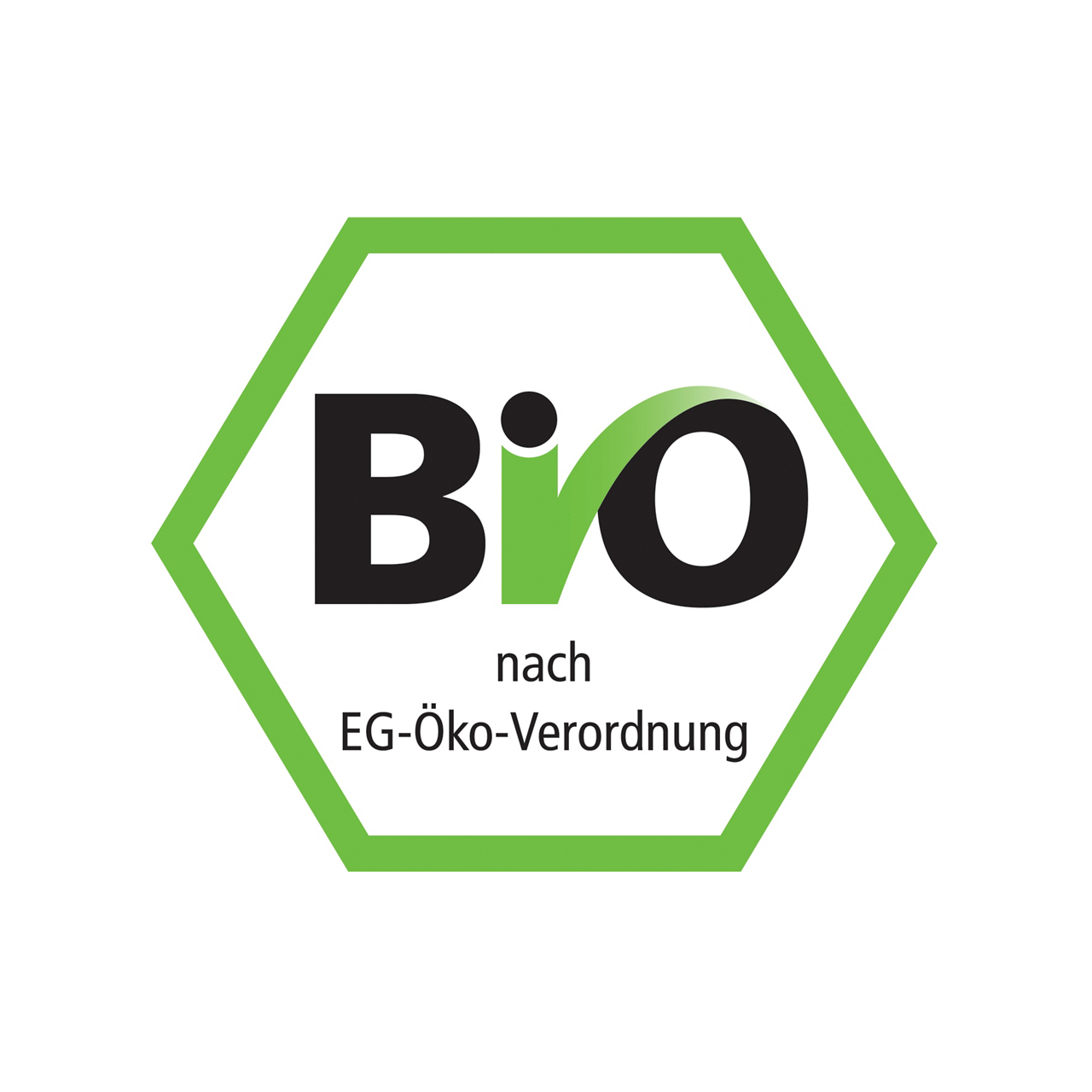 The organic seal stands for organic production and animal welfare. Aptamil Organic is certified according to the applicable organic guidelines.
The milk in Aptamil Organic comes from select organic farmers. The cows are provided with fresh grass or hay. Other feed, such as groats in winter, is produced by organic cultivation (in accordance with the law).
Manufactured in our own factory in Wexford
Aptamil Organic is made in Wexford, Ireland. The factory runs on 100% renewable electricity.
Together for our environment
What's the proper way to dispose of the packaging?
 Step 1: Separate the cover from the body of the packaging.
Step 2: Dispose of the components separately in the collection site for recyclable materials.
Step 3: As the parent company of Nutricia Milupa, Danone is pursuing its vision to make all packaging reusable or recyclable by 2025 while simultaneously working on designing our products in such a way that ensures we're making the best possible use of our materials and avoiding waste. We know we aren't perfect yet in many areas and we're continuing to work on the best possible solutions.
This might also interest you