Our original¹
Basis for the future
With our gentle Lactofidus® process
Vegetable oils without palm oil
From birth
Infant formula from birth
For over 40 years, we have been researching the wonderful properties of breast milk and its inner plan to nourish and develop the child. This knowledge, inspired by the wonder of nature, is in the 1advanced formula of our proven original.
Aptamil Pronutra 1 contains DHA2 and combines our unique combination of nutrients with our gentle Lactofidus® process. Our infant milk is specially formulated to meet your baby's nutritional needs from birth and is also suitable for supplemental feeding when breastfeeding.
Aptamil Pronutra 1 contains vegetable oils without palm oil.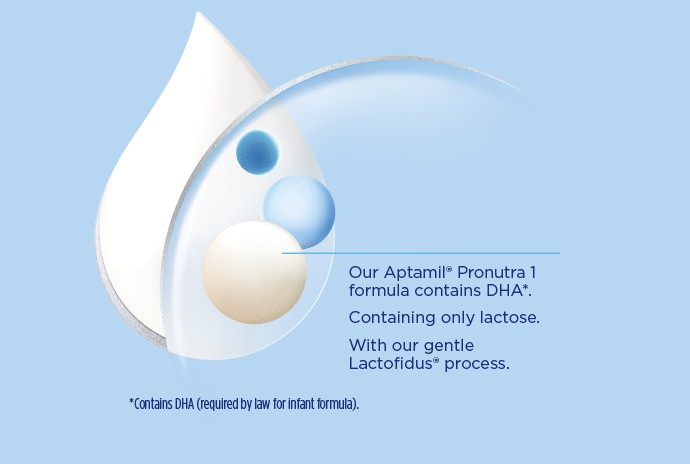 *All prices incl. VAT and plus shipping costs.
² Contains DHA (required by law for infant formula).
More details
The birth of your baby is the start of a very special time. In this new stage there are suddenly many things to consider and in this we want to be by your side.
Aptamil Pronutra is the only formula on the market that combines our special combination of nutrients with an innovative and unique process.
Our unique process uses natural lactic acid bacteria that positively "pre-digests" some of the milk during the manufacturing process.
Do you have questions about the transition or formula?
The Aptacare team of experts is here to help you. You can reach us free of charge, around the clock, 7 days a week.
Ingredients
Lactose (from milk), vegetable oils (sunflower, coconut, rapeseed) (23.5%), skimmed milk, whey product (from milk), galactooligosaccharides (from milk), whey protein (from milk), fructooligosaccharides, fish oil, potassium citrate, calcium carbonate, oil from mortierella alpina, magnesium chloride, choline chloride, calcium orthophosphate, sodium citrate, potassium chloride, sodium chloride, vitamin C, emulsifier (soy lecithin), inositol, L-tryptophan, ferrous II sulfate, zinc sulfate, L-carnitine, antioxidant (ascorbyl palmitate), pantothenic acid, niacin, copper sulfate, vitamin E, vitamin A, vitamin B1, vitamin B2, vitamin B6, potassium iodide, folic acid, vitamin K, sodium selenite, manganese II sulfate, vitamin D, biotin, vitamin B12.
Nutritional information
Per 100 ml ready-to-drink food¹
Energy

285 kJ / 68 kcal

Fat

3.5 g

- thereof saturated fatty acids

1.1 g

- polyunsaturated fatty acids

0.6 g

- thereof docosahexaenoic acid (DHA)

0.017 g

Carbohydrates

7.6 g

- thereof sugars

7.4 g

-- thereof lactose

7.2 g

- thereof inositol

0.008 g

Fibre

0.6g

- thereof GOS²

0.5 g

- thereof FOS²

0.08 g

Protein

1.4 g

Vitamins

Vitamin A

60 µg

Vitamin D

1.5 µg

Vitamin E

1.2 mg

Vitamin K

5.7 µg

Vitamin C

8.5 mg

Thiamine (vitamin B1)

0.07 mg

Riboflavin (vitamin B2)

0.14 mg

Niacin

0.44 mg

Vitamin B6

0.06 mg

Folate

14 µg

Vitamin B12

0.17 µg

Biotin

1.8 µg

Pantothenic acid

0.5 mg

Minerals

Sodium

22.8 mg

Potassium

86 mg

Chloride

57 mg

Calcium

60 mg

Phosphorus

34 mg

Magnesium

6.8 mg

Iron

0.54 mg

Zinc

0.49 mg

Copper

0.05 mg

Manganese

0.003 mg

Fluoride³

<0.006 mg

Selenium

2.6 µg

Iodine

13 µg

L-carnitine

2.0 mg

Choline

22 mg

(GOS) Non-caloric carbohydrates

0.24 g
1Standard solution: 14.2 g powder + 90 ml water = 100 ml ready-to-drink food.
2GOS = galactooligosaccharides, FOS = fructooligosaccharides.
³
Natural content
The analysis values are subject to the usual fluctuations when using natural products.
Use, Preparation & Dosage
The number and drinking quantity per bottle vary individually. The indicated drinking quantities and the number of bottles per day are only recommended guideline values. When full and levelled off, a measuring spoon holds 4.7 g.
Age of the child
Bottle meals per day
Ready-to-drink nutrition (ml)
The following is needed per meal
Water (ml)
Measuring spoons Aptamil® 1
1st week
5-7
70
60
2
2nd week
6
100
90
3
3rd-4th week
5-6
130
120
4
5th-8th week
5

170
150
5
3rd + 4th month
4-5
200
180
6
5th month
4
230
210
7
6th month
3
230
210
7
After 6th month
1-2
230
210
7
When preparing Aptamil® 1, pay close attention to the instructions for use. Improper preparation and storage may result in adverse health effects due to the growth of unwanted bacteria. Prepare the food freshly before each meal and feed it immediately. Do not reuse food leftovers. Thoroughly clean the bottle, nipple and ring. Do not heat milk formula in the microwave (overheating hazard).
Cool fresh, boiled drinking water to approx. 40°C and add 2/3 of the required amount of water to the bottle.
For accurate metering of the powder, level off the enclosed measuring spoon with the skimmer. Use only the enclosed measuring spoon.
Add the required amount of powder to the bottle. Store the measuring spoon in the spoon holder. 
Close the bottle and shake vigorously vertically for about 10 seconds, add the remaining amount of drinking water and shake vigorously again.
Open the bottle and attach the nipple. Check bottle contents for serving temperature (about 37 ° C).
Important instructions
Regarding nutrition: Breastfeeding is the best nutrition for your baby. If you would like to use an infant formula, please talk to your paediatrician or midwife.

Regarding dental health: All baby foods contain carbohydrates. Frequent or prolonged contact with carbohydrate-containing foods can cause tooth decay. Please do not allow your child to suck on the bottle constantly.
Our Quality promises
Our Aptamil products are based on the latest findings from over 40 years of research and meet the highest quality standards.
In addition to our consistently high product quality, we also strive to continuously develop our service offering around our products. That's why each Aptamil Pronutra package contains two unique QR codes that allow you to learn more about our quality promise and the individual product you've purchased.
By holding the camera of your smartphone on one of the two QR codes and following the displayed URL, you will get direct digital access to the product details of the product you purchased, such as its production and expiration date.

Aptamil Pronutra-ADVANCE 1 can be given from birth as the sole nutrition or as an additional food. As with breastmilk, you can also feed your baby with it as often as needed. Suitable until the child stops using a bottle.
Our officially certified retail partners now deliver directly to you in China
Purchase your favorite Aptamil products online directly from one of our officially certified retail partners. They have been certified based on thorough requirements, so you have the assurance that it gets to you in China through a safe supply chain.
This might also interest you
Always there for you!
Contact our Aptacare expert team. Our experts are nutritionists, midwives and pediatric nurses, and all of them are mothers too. Specially trained breast-feeding experts will be happy to advise you on all your questions regarding breast-feeding.