Ideal Baby Food for Year 1
What you feed your baby during infancy is extremely important for future health. Find out why nutrition matters during year 1.
Breast milk — the best food for every developmental phase
Breast milk is the best food for your baby. Exclusively breastfeeding during the first 6 months guarantees that your baby gets all the nutrients he or she needs. Breastfeeding also gives your baby a feeling of intimacy and protection and supports his or her healthy development at all times. Breast milk changes to meet the needs of the baby. The unique combination of nutrients contained in breast milk support the development of organs and metabolic processes which are not yet fully developed at the time of birth. Breast milk is easy to digest, strengthens the baby's defenses and supports brain development.
Did you know that breastfeeding your baby also provides them with all the fluids they need?
Even if you are feeding your baby with formula, no additional drinks are needed unless your baby is ill. Only in situations where your baby has a fever, vomiting or diarrhoea do you need to supplement their fluid intake with additonal drinks.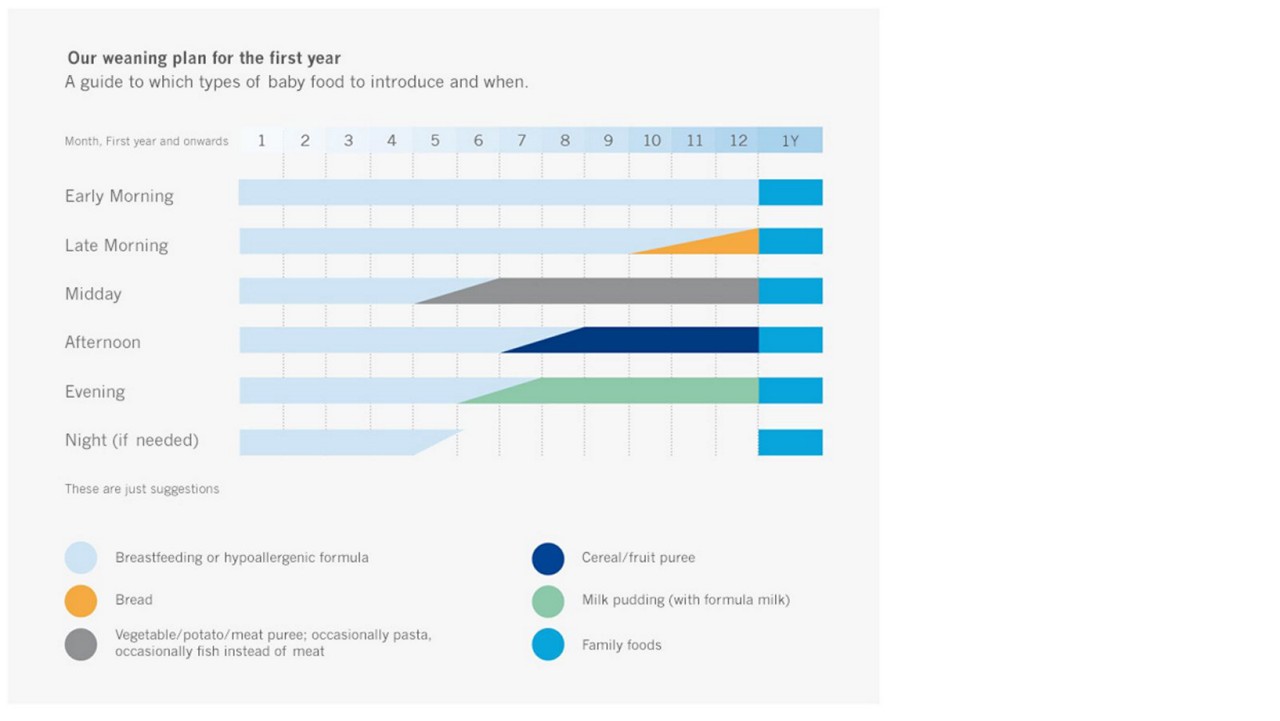 If you can't breastfeed or aren't breastfeeding exclusively, the only good alternative available is industrially-produced formula. Formula milk is produced and regulated in accordance with the strictest criteria and is developed to meet the nutritional needs of a baby.
During this phase, your baby will begin to learn to eat from a spoon and drink from a cup. Your baby's readiness for baby food will depend on their individual development. You should not start weaning any earlier than week 17 or any later than week 26 after birth. During this time, your baby may begin to suck on their fingers and observe you with interest while you are eating. This is a good sign that it's the right time to start introducing baby food. You should continue to breastfeed even after you have started weaning.
Other drinks are important now
Once your baby starts eating baby food three times a day, it's time to start giving him or her additional fluids in the form of drinks (in addition to milk). Juice doesn't cut it when it comes to quenching thirst. We recommend offering your baby fresh tap water. Your baby can now also start learning to drink out of a plastic cup. He or she might not take to the cup immediately, so it's important to see it through patiently.
Month 10 and onward: Time for family food
Between months 10 and 14 after birth, your child is ready to start eating what the rest of the family is eating. During this time, pureed baby food is slowly replaced with "normal" family foods. But not every child likes the taste of solid food at first, and it can be hard to move on from the pureed foods they're used to. For this reason, it's a good idea to make the transition to family food gently. Replace pureed foods and milk step by step with bread, fruit, vegetables, fish, meat and eggs.
Digestion plays a crucial role when it comes to nutrition. But it's not uncommon — especially during the first 3 months after birth — for babies to experience digestive problems. The child's digestive tract still needs to develop fully, so flatulence and three-month colics tend to occur during this time. This is especially the case when your baby swallows too much air while drinking. You can help reduce this occurrence by making sure your child is in a calm environment while drinking and that he or she is burping plenty. If you are breastfeeding, avoid eating foods that cause flatulence and be sure to drink caraway or fennel tea regularly. Warmth is a good treatment for bloating. You can lay a warm cherry stone bag on your child's belly or massage the belly in a clockwise manner with warm caraway oil. The "flying baby position", in which the baby is lying with his or her belly on your forearm, is also helpful.
This might also interest you